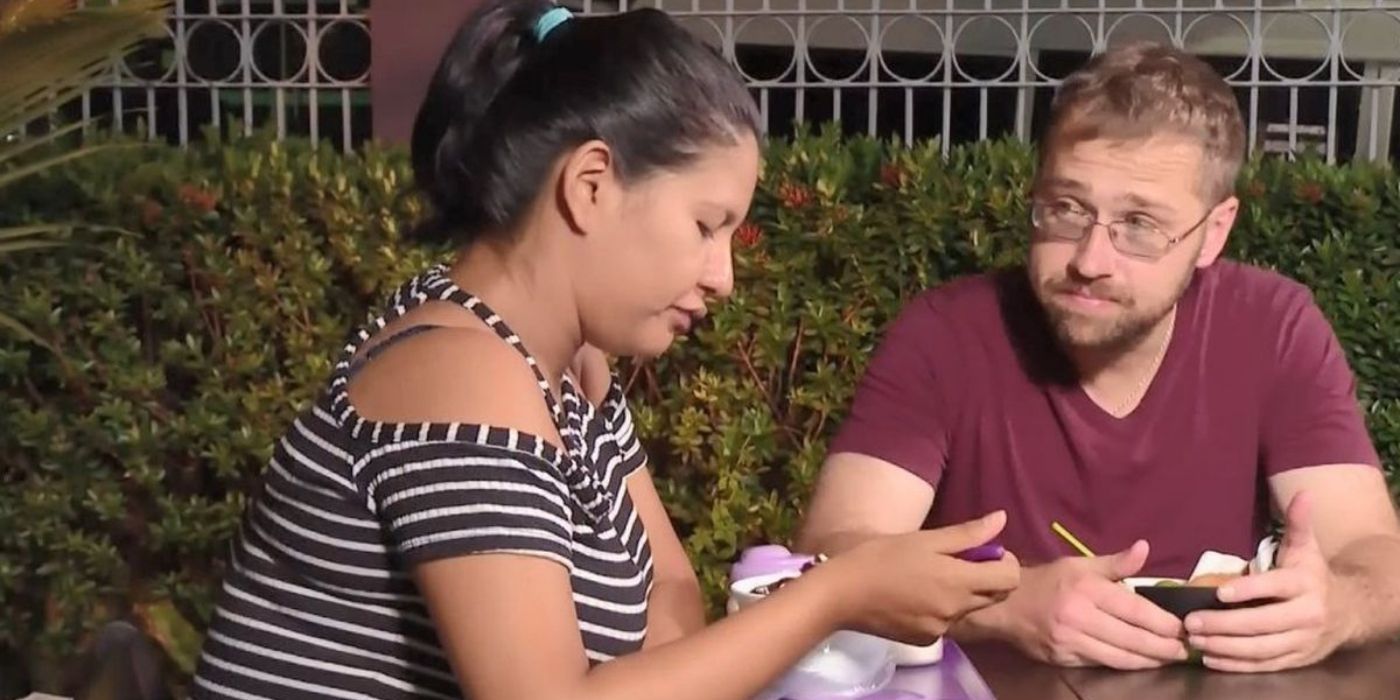 While breakups often spell the end of relationships for feuding couples, numerous 90 Day Fiancé franchise couples have broken up and reunited over the years. Franchise fans have sometimes gotten whiplash as they watch couples openly fight and then shockingly reunite. Discover which 90 Day Fiancé franchise couples are accused of fighting and getting back together in their rocky on-again-off-again relationships.
The 90 Day Fiancé franchise might have been conceived as a look at the K-1 visa process, but it has since featured couples in all stages of relationships. Franchise fans have watched from first franchise appearances to relationships dissolving on 90 Day Fiancé: Happily Ever After? to singles seeking love on 90 Day: The Single Life. However, breakups haven't always meant things were over, as some couples had no problem smearing each other in front of audiences and then casually reuniting.
Related: 90 Day Fiancé: How Omar & Avery's Relationship Changed Over The Years
Fans of franchise content haven't been surprised by many 90 Day Fiancé breakups, as plenty of couples has been problematic or incompatible. However, viewers were shocked when some couples got back together after very messy splits. Numerous singles haven't been afraid to make shocking allegations about their former partners before the duo reunites and pretend that they never had bad blood. Discover which 90 Day Fiancé couples have publicly behaved in such a manner that made their reunion baffling to viewers.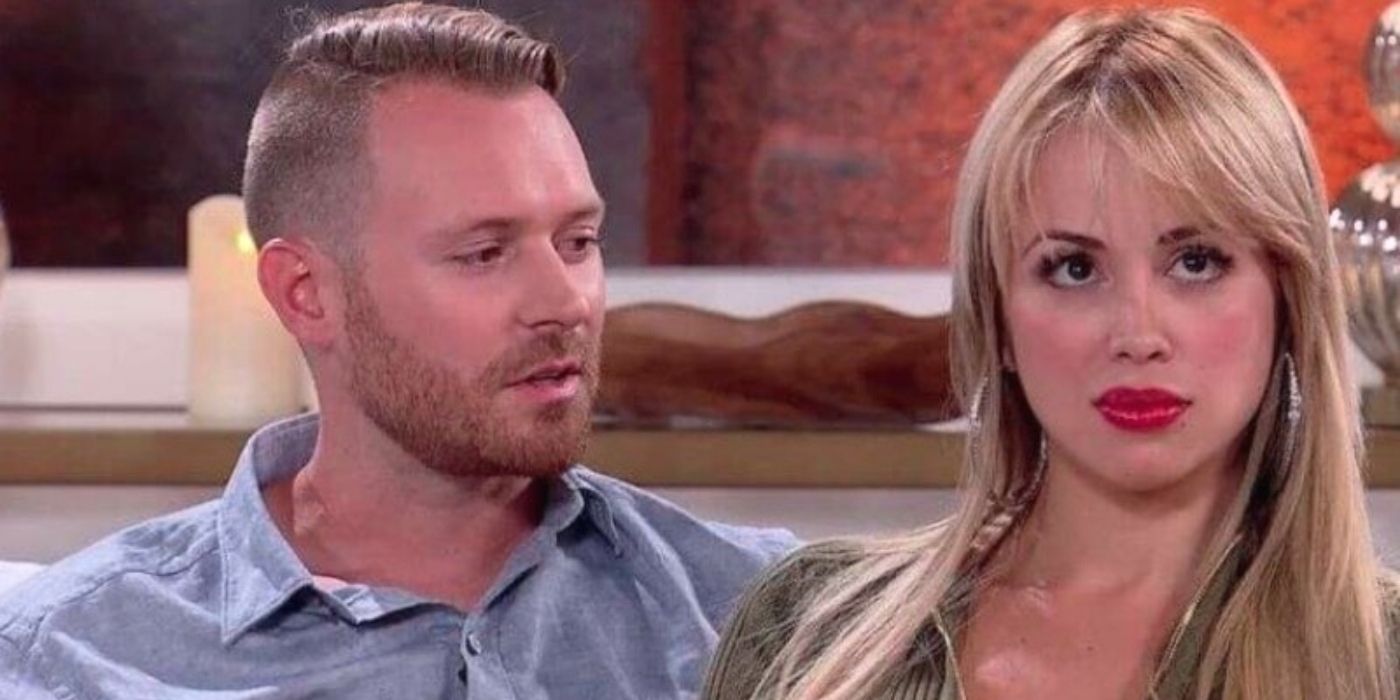 Russ and Paola Mayfield joined the 90 Day Fiancé franchise in its very first season, though their relationship hasn't been easy. Some viewers thought that things were already over for the risqué Colombian woman and her conservative American husband when Paola took off to Miami. Russ followed Paola and eventually adapted to her lifestyle, though the couple experienced numerous marital issues over the last year. Paola has been back-and-forth about her marital status and surname, while the couple at one point announced a split and Paola hinted at Russ being unfaithful. Despite Paola throwing fuel to the breakup fire, Paola and Russ appear to have gotten back together.
No couple in the 90 Day Fiancé franchise has given viewers whiplash quite like Paul and Karine Staehle. The duo has appeared on multiple franchise shows including 90 Day Fiancé: Before The 90 Days and 90 Day Fiancé: The Other Way. However, Paul and Karine often make the most shocking allegations on social media. The former couple has broken up many times over the years and each obtained restraining orders against each other at one point. Karine alleged abuse and took it back, while Paul accused her of fathering their kids with another man and demanded public paternity tests. Despite all of the drama and very serious accusations, the duo continually reunited. However, Paul and Karine appear to have finally ended their unhealthy relationship for good.
When season 6 couple Steven Frend and Olga Koshimbetova announced their split last year, many franchise fans thought it was for good. Steven had been called out by viewers for mistreating Olga, as he was notoriously unkind to the young mother after she gave birth and was rude, demanding, and not understanding. Olga shaded Steven during the split and appeared to be done with him. However, the co-parents soon started sharing happy snaps of their life with their son and many travels. Steven and Olga soon confirmed that they were back on, and the couple now lives in New York City with their son.
Related: 90 Day Fiancé: Colt Johnson's Worst Fights With Exes & His Wife Ranked
Angela Deem and Michael Ilesanmi have appeared on multiple franchise shows, which has led to Angela becoming a notorious franchise villain. The older American married the younger Nigerian man, though viewers have been left constantly guessing over whether or not Angela and Michael are together or broken up. Since it has been a very long waiting process for Michael to get his US visa approval, Angela has been unable to see him. Angela effectively split with Michael during the Happily Ever After season 6 reunion during her infamous tirade. However, the couple has since been rumored at being back together through social media content. It wasn't until recently that Angela and Michael confirmed the end of their unhappy marriage.
Tarik Myers and Hazel Cagalitan are another franchise couple who aired breakups and reunions in rapid succession. The married couple dealt with serious relationship complications when they decided to add shared girlfriend Minty to their relationship. Tarik and Hazel surprised viewers by sticking it out despite waning attraction and clear mistrust, but fans were not shocked when they announced they had split in December. Hazel shocked fans by requesting money from viewers after she alleged emotional and physical abuse by Tarik. These claims confused viewers, as the couple reunited shortly after and appear to be fully back together despite Hazel's claims. Overall, 90 Day Fiancé fans are puzzled at the nature of Tarik and Hazel's relationship.
Big Ed Brown and Liz Woods have left viewers confused about their relationship. When they first appeared on 90 Day: The Single Life, Liz appeared highly resistant to Big Ed's advances. However, the American mother was heartbroken and in tears at the Tell-All when the couple revealed their split. A phone call from Big Ed that showed him verbally abusing Liz was then leaked, leading to viewers urging Liz to completely cut off Big Ed. However, the couple shocked viewers again by not only reuniting but becoming engaged. Viewers are confused as to both when Liz fell for Big Ed, as well as why she took him back after his horrible behavior.
Corey Rathgeber and Evelin Villegas have aired their rocky up-and-down romance on The Other Way, and they are one couple who certainly works to conceal their relationship status. The couple split numerous times and Evelin was seen with other men. However, she was broken-hearted when Corey dated a Peruvian woman named Jenny after Evelin dumped him. Corey and Evelin ended up reuniting and planning their wedding, much to Evelin's hesitation. It was then that the couple admitted they were already married for two years. Though Corey and Evelin were together at the most recent Tell-All, the couple appears to currently be in a bad place as Evelin has been blasting Corey online. However, it also wouldn't be surprising if the unhealthy 90 Day Fiancé couple is still together given their history.
Next: 90 Day Fiancé: How Ximena Is Being Misunderstood & Misrepresented
Read more: screenrant.com