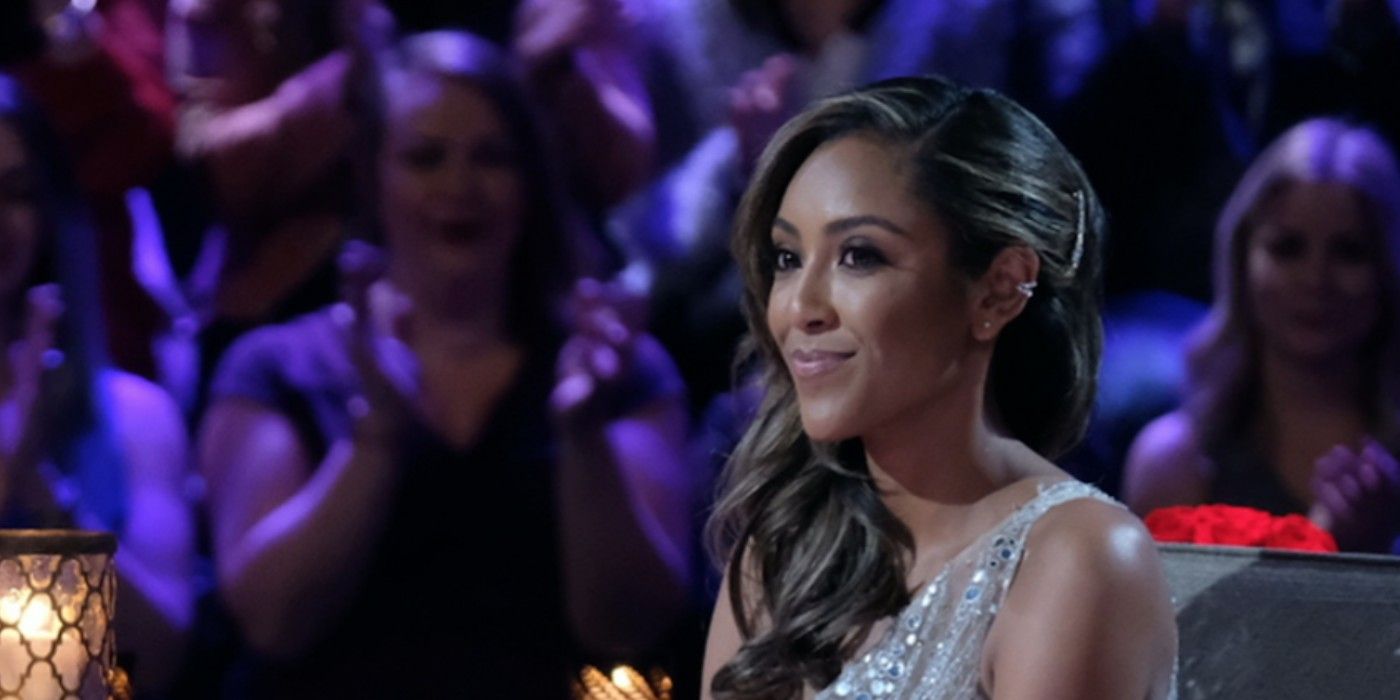 Tayshia Adams from The Bachelorette season 16 explored how social media has been detrimental and complicated for her own mental health and relationship with Zac Clark. Once a contestant, and now a co-host and mentor within the franchise, Tayshia has become an integral figure to Bachelor Nation, providing plenty of helpful advice and insight about the series. Now engaged to Zac, Tayshia has been open and honest about her relationship and her experiences on the series from day one. Focused on hosting The Bachelorette and navigating her engagement, the reality star appears to be successfully balancing her fame and love life.
Beloved by Bachelor Nation, Tayshia has become a reliable figure for the franchise, adding stability after a number of questionable characters were featured on the series over the past year. Welcomed back after a successful season as the bachelorette, Tayshia remains a fan-favorite, proving to be light-hearted, authentic and intentional throughout her time on the series. Having found love and fostering new love stories on The Bachelorette, Tayshia continues to host and contribute to the series that brought her and Zac together.
Related: Bachelorette: Tayshia Adams Admits Hosting Tested Relationship With Zac
Taysiah explained to Yahoo how social media has been a negative component from her time on The Bachelorette. Discussing the nature of the series, she shared that dating on the series leads to "unneeded stress and pressure" for contestants, with their every success and failure being publicized. Navigating her own career and pursuing a relationship with Zac has been difficult, and Tayshia claimed that fans have made it even harder for the two to connect. After harsh comments from fans, the reality star explained that "take[ing] a step back from social media" has been beneficial for herself and for Zac as they embrace their engagement. With rumors surrounding Tayshia and Zac, the two have decided to focus on themselves and make "[their] relationship [their] number one priority."
While Tayshia covered the negativity of the series and its fans, she went on to explore the importance of The Bachelorette and the many ways contestants can practice authenticity. One way that she believes contestants can fight the sometimes-toxic nature of series is by welcoming deep "conversations." Breaking superficial boundaries and exploring topics such as race and mental health are some of the ways that Tayshia sees the show moving in the right direction. Having "fresh perspectives" is something that Tayshia emphasized, both on the series and in her own relationships.
Tayshia has experienced a number of difficulties on the series, one of the most evident being the backlash from social media users. With pressure to prove her love for Zac, Tayshia has struggled with criticism and online rumors. Attempting to maintain a career, attend to her family and friends, and focus on her engagement, Tayshia has found her moment of fame to be confusing and draining. Trying to distance herself from social media, she's focusing on more important priorities outside of the series. Still hopeful for the series, Tayshia shares the good and the bad, encouraging contestants to attend to their relationships and ignore the harmful comments made online.
Next: Bachelorette: Zac & Tayshia's Traits That Will Make Them Good Parents
The Bachelorette airs Tuesdays at 8 p.m. EST on ABC.
Source: Yahoo
Read more: screenrant.com