This Keto Pumpkin Cheesecake has an incredibly creamy filling and a flavorful, crisp and graham cracker-like crust! It can be frozen and thawed for Thanksgiving as it freezes perfectly.
I couldn't be happier with how this cheesecake came out. I'd dabbled with keto recipes for years and really didn't like the results. Believe me -; if I'm posting a keto recipe, you know it has to be good because I can't stand the taste of most keto desserts.
If that sounds like you, try this cheesecake! It is the ultimate keto Thanksgiving dessert.
I'm not sure if cream cheese does something magical to keto sweeteners to make them more palatable or whatever, because man…; this cheesecake is amazing, even for non-keto-eaters!
Ingredients
The only non-standard ingredients compared to a traditional pumpkin cheesecake are almond flour for the crust and the keto sweeteener.
For the crust
Almond flour -; another type of nut flour might work, but I haven't come across any other nut flours that are as finely ground as almond flour. So I wouldn't recommend experimenting as the crust will likely be greasy.
Pecans or walnuts -; these are always best toasted, but there's no need to do that here as they get toasted while pre-baking the crust.
Coconut flour -; yes, it's only a small amount, but there's no sub for it. You must use coconut flour.
Then you can also make these Chocolate Chip Coconut Flour Cookies, which is one of my very favorite recipes and also has a keto option.
Butter -; I haven't tried this recipe with coconut oil or anything else in place of the butter. I figured it's already full of dairy.
I know that coconut oil wouldn't be a direct sub. I would do 1/4 cup + 2 teaspoons of refined coconut oil + 1 teaspoon of water.
This is because oil is 100% fat and butter is 80-82%. If you go adding extra fat to a crust recipe, you'll have a mess.
Keto sweetener -; you have three options! See below for more info.
Cinnamon + salt
For the cheesecake filling
Cream cheese -; you should use regular full-fat cream cheese if you want your cheesecake to be rich and creamy.
Canned pumpkin -; you can use homemade pumpkin puree if you're confident that it has the same consistency as canned. Homemade is often more watery than canned, which is bad for baked goods.
Keto sweetener -; read the next section for your options.
Pumpkin pie spice -; if you don't have pumpkin pie spice on hand, you can make your own using 2 teaspoons ground cinnamon, 1/2 teaspoon ground nutmeg, 1/2 teaspoon ground ginger and 1/8 teaspoon ground cloves or allspice.
Eggs -; I don't recommend trying an egg sub here. I'm quite sure it wouldn't work.
Vanilla and salt
Sweetener options
This is what I've tested this recipe with so far:
Lakanto Powdered Monkfruit Sweetener -; to be honest, I normally can't stand the taste of Lakanto, but for some reason, it's just perfect in this recipe.
A few months ago, I actually gathered all the Lakanto I had ordered from the US in order to give it away. I then forgot to actually give it away.
I'm so glad I still have it because it's A+ in this recipe.
This is my first choice for this recipe. The crust is crisper when using it in comparison to the two choices below.
Note that the cheesecake in the photos and video was made with the homemade Gentle Sweet copycat I talk about below.
Homemade Gentle Sweet copycat (listed below) -; this is the same mix of keto sweeteners as in all of my other keto dessert recipes. It's a blend of xylitol, erythritol and stevia powder. It's the only keto sweetener that I haven't thought tasted absolutely terrible (with the exception of powdered Lakanto in this recipe). And not only that, but I actually love it in the recipes I've posted with it so far!
Trim Healthy Mama Gentle Sweet
If you're not keto -; I've also made this cheesecake with 3/4 cup granulated sugar + 1/4 cup brown sugar in the filling. For the crust, I used 5 tablespoons granulated sugar.
I haven't tried granulated Lakanto so I'm really unsure if it'd work. If you want to try that, I suggest using 1 cup Golden Lakanto for the filling and using 5 tablespoons for the crust.
To make a big batch of the homemade Gentle Sweet copycat option
1 pound (453 grams) xylitol = 2 1/4 cups
12 ounces (340 grams) erythritol = 1 1/2 cups + 3 tablespoons
2 teaspoons pure stevia powder
This sweetener isn't a 1:1 sub for granulated sugar. When I use this blend, I use about 2/3 of the amount of granulated sugar I'd use.
Or maybe a little less. It depends on the recipe.
Once you have that mixed up, then you can make these other delicious low-carb recipes:
Keto Chocolate Pudding
Almond Flour Chocolate Chip Cookies
Keto Peanut Butter Cups
Keto Lemon Cookies Keto Macaroons
If you don't want to make a big batch, this is what you need for just this cheesecake (for the crust + filling):
94 grams xylitol
70 grams erythritol
a teeny bit more than 3/32 teaspoon stevia. Yes, it's a ridiculous measurement, and it's not exact, and stevia has such a powerful taste so I highly recommend using the above big batch for 100% accuracy.
How to make it
You'll want to use a food processor to get the nuts uniform in size. If you use a high-speed blender, you won't get that.
Dump everything into the bowl of a food processor, and process until you don't have any large chunks of butter. You don't want to process too long or it'll become clumpy and bake up differently.
What you see in this photo is almost overprocessed. If you use powdered Lakanto, your crust will look much, much drier.
Almost like dry powder. You can pat that powder straight into the pan!
It works great. I highly recommend using powdered Lakanto if you have some or can get your hands on some.
Now you press it down into the prepared springform pan. The crust will go up a bit more than halfway up the sides.
It shouldn't be pressed up so high that the crust is super thin because then it would be difficult to cut your cheesecake. You want the filling to fit in the crust, so it also shouldn't be too low.
Now it's ready to bake! I've made this keto pumpkin cheesecake 6x and the crust held its shape perfectly each time.
But ingredients can vary from brand to brand. If your crust slumps a bit during baking, just push it back up with a spoon.
While the crust is cooling, mix the filling ingredients, except for the eggs, together.
Add the eggs, one at a time, and be careful not to overbeat. Overbeating can create cracks during baking.
Pour into the baked and partially cooled crust.
What's the crust like?
The crust is similar to a graham cracker crust but it doesn't really taste like a graham cracker crust. It's just similar.
I've tried many, many other paleo, grain-free and keto "graham cracker crusts" and none of them really taste like the real thing. The reviewers of the recipes I tried were happy with the results, but I never was.
They were missing the crunch! And that's what the pecans or walnuts are for. You just can't omit them.
Does it get soggy like all other keto pie crusts?
The crust stays surprisingly crisp. More crisp than any other grain-free crust I've tried (and I've probably tried about 60 since I start baking grain-free!).
I've only posted a few recipes with baked pie crusts for this reason. I'm super picky about pie crusts!
What's monumentally stupid is that I spent about 7 years trying to find the perfect grain-free pie crust. I tried all the top-ranked ones.
Then I realized I already have a fantastic one. The one in my Mini Caramel Pecan Tarts! For some reason, I thought that that crust recipe couldn't be made in a pie pan.
I'm very much a cookie pie crust kind of gal and while this pie crust isn't a cookie crust, it's got the equivalent of 1/3 cup of granulated sugar in it. So it's at least sweet and not bland and just all around…; bla.
Great make-ahead dessert for Thanksgiving
Like every other cheesecake, this is best made a day ahead of serving. It's just less stressful to prepare it ahead of time.
You can also make it in the morning and serve it about 8 hours later.
But really, it's so much easier to make it the day before so you don't have to worry about it firming up quickly enough before cutting it.
How to freeze it
You can even make this cheesecake now and put the whole thing in the freezer until the night before Thanksgiving. Then let it thaw in the fridge overnight so it's ready to go!
You could also take it out in the morning and let it thaw at room temperature (although from a food safety view, in the fridge is safer).
Weirdly enough, the crust doesn't get soggy. It stays dry and crisp. Especially so if you use Powdered Lakanto!
Live outside of the US?
You can just skip this section if you live in the US or Canada! This recipe was tested multiple times with US ingredients, so this is only for the people who have to try to re-create US ingredients.
Cream cheese
The filling was, as expected, a bit creamier with the US cream cheese than when using European Philadelphia brand (and every other brand cream cheese). The stuff here is more watery and not as creamy.
If you live outside of the US or Canada and have the type of cream cheese in little tubs which is meant to be spread on toast, this is what you need to do:
For 8 ounces (225 grams) of cream cheese, buy a 300-gram package (the stuff at Aldi, Lidl, etc. works just as well as Philadelphia), put it in the center of a clean tea towel or cheesecloth, and squeeze out the liquid until you have 225 grams of cream cheese.
So for this recipe, buy 900 grams of cream cheese, and squeeze out the liquid until you have 680 grams of cream cheese left.
The cheesecake is still amazing and super creamy! What you see in the photos is European cream cheese, using the above trick.
If you're feeling lazy and couldn't be bothered to get rid of the excess liquid, I wouldn't recommend this recipe. The baking time will be totally different and you're likely to over- or under-bake your cheesecake. I know because I have done this many, many times.
Butter
I've found that using European butter with its 82% fat is a disaster in crust recipes. It's another reason why I rarely post pies recipes, cheesecakes and other things with baked butter-based crusts.
It works pretty much the same in this crust. If using European butter, just use 65 grams of butter instead of 70 plus 1 teaspoon of water.
Nutritional info
The following information is provided as a courtesy and is an estimate only. I";m not a nutritionist nor a dietician. This information comes from online calculators. Although I do everything to attempt to provide accurate nutritional information, these figures are only estimates. Be aware that varying factors such as product types or brands used can change nutritional information in any recipe.
Here";s the label for 1/18th of the cheesecake, excluding whipped cream on top and using powdered Lakanto.
Net carbs = 5.29 grams per slice. Net carbs = total carbs -; fiber -; sugar alcohols. There are 10.02 grams of sugar alcohol per slice, and that";s how I came up with that number.
I stupidly wasn't thinking about serving size when it came to the decorating (and therefore, the slicing) of the cheesecake. But your slice will be 2/3 the size of the slices in the photos. That's still pretty decent for a keto dessert!
I looked at other keto cheesecake recipes and saw that they're using 2/3 of the filling I do and state that it serves 12, so 18 slices seems to be correct.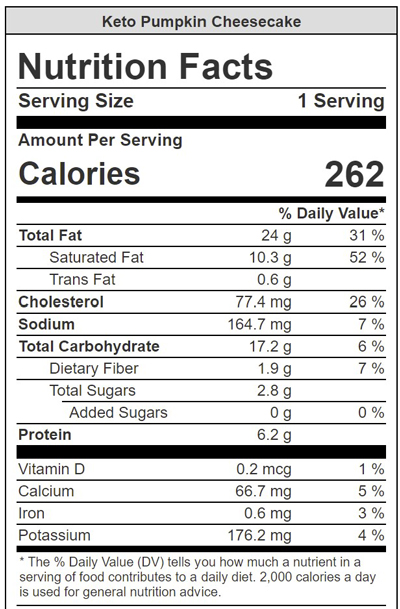 Questions about this keto pumpkin cheesecake?
Can I make this as a pie?
The filling is likely enough for two pie pans, but I have no idea how much crust you'd need. I also have no idea of the baking time. So I wouldn't recommend trying unless you feel like experimenting.
Do I have to use coconut flour?
Yup. It's "only" 4 teaspoons but without it, the crust is a greasy mess.
Can I use something else instead of butter?
Since this is full of dairy anyway, I haven't tried this recipe with coconut oil or anything else. You'd probably need to use 4.5 tablespoons of coconut oil in place of 5 tablespoons of butter. But it's just a guess.
Can I use X type of sweetener?
What I list in the ingredients is what I've tried this recipe with. If you want to experiment, you need something that's equal to 3/4 cup granulated sugar + 1/4 cup brown sugar.
Can I use low-fat cream cheese?
No, it needs to be full-fat to have the right texture.
Can I use pumpkin pie filling?
Nope! That has added sugar and isn't keto.
Can I use homemade pumpkin puree?
If you already regularly use homemade pumpkin puree in baking and always have great results, then sure. But if you're not really familiar with how thick canned pumpkin puree is, then I wouldn't recommend it.
Homemade is much more watery than canned. My Homemade Pumpkin Puree Recipe has a great tip on how to make it thicker so it's like canned pumpkin puree.
If your pumpkin puree is too watery, then the cheesecake won't be as creamy as it should be.
How do I make this eggless?
Egg subs don't work in baked cheesecakes. I do have an Eggless Cheesecake Recipe, but it's not keto. And not pumpkin. But delicious. 😉
How do I make this vegan?
There's the whole egg issue above and all of the cream cheese and butter to deal with. I do not recommend wasting your time and ingredients trying to make this vegan.
You could instead check out my Vegan Pumpkin Cheesecake. You'd need to use the crust in the recipe below since the one in the vegan version has dates. Then you'd need to use a keto sugar for the maple syrup and coconut sugar in the filling.
It's a no-bake filling so you can just add keto sweetener to taste. If you use all granulated sweetener, you'll need to add some milk or water to make up for the loss of liquid in the maple syrup. I'm guessing about 1-2 tablespoons, but it's really just a guess.
That";s it! If you try this keto pumpkin cheesecake, I so want to hear about it! Leave a comment or snap a pic and tag #texanerin, so I can be sure to see it!
❀Keto Cheesecake

Prep Time: 20 minCook Time: 1 hReady in: 11 hYield: 16 slicesIngredientsFor the crust:1 1/4 cups (125 grams) almond flour1 cup (110 grams) pecans or walnuts4 teaspoons (12 grams) coconut flour5 tablespoons (70 grams) unsalted butter1/4 cup (40 grams) Powdered Lakanto OR 3 tablespoons (36 grams) THM Gentle Sweet (homemade version listed in post) 2 teaspoons ground cinnamon1/8 teaspoon saltFor the filling:24 ounces (680 grams) full-fat brick-style cream cheese, softened1 cup (240 grams) canned pumpkin3/4 cup + 2 tablespoons (140 grams) Powdered Lakanto OR 2/3 cup (128 grams) Gentle Sweet (homemade version listed in post) 1 tablespoon pumpkin pie spice11 teaspoon vanilla extract1/8 teaspoon salt3 large (50 grams each, out of shell) eggs, room temperatureTopping:whipped creamDirectionsPlace a round of parchment paper on the bottom of an 8″ springform pan and grease the sides with butter. Preheat the oven to 350 °F (175 °C).Make the crust:Place all the crust ingredients in the bowl of a food processor fitted with an S-blade. Process on high until combined. The pecans should only be about 1/8″ in size or a bit smaller but they shouldn't be chopped super small.Press into the greased springform pan. The crust will go up a bit more than halfway up the sides. It shouldn't be pressed up so high that the crust is super thin. You want the filling to fit in the crust, so it also shouldn't be too low. Bake for 10 minutes or until it appears dry, not glossy.Remove from the oven, use a spoon to smooth it out if it doesn't look perfect (little holes, cracks, whatever) and let sit for 15 minutes while you prepare the filling.Prepare the filling:In a large mixing bowl using an electric hand mixer, beat together the cream cheese, pumpkin, sweetener, pumpkin pie spice, vanilla and salt at medium speed until well combined.Beat in the eggs, one at a time, on low until combined, being sure not to overmix.Pour this into the crust which has cooled for 15 minutes.Bake at 350 °F (175 °C) for 50 minutes. When you tap the pan, it won't be totally set but won't be super jiggly. Turn off the oven. Open the oven door and let the cheesecake sit in there for 30 minutes to prevent cracks from forming.Remove from the oven after 30 minutes and let come to room temperature, about 2 hours, before chilling for 8+ hours.Decorate by piping on some whipped cream. I used Wilton Tip 6B.Refrigerate for 4 days or freeze for up to 3 months. You can freeze the whole cheesecake and then let it thaw overnight in the fridge.NotesIf you don't have pumpkin pie spice on hand, you can make your own using 2 teaspoons ground cinnamon, 1/2 teaspoon ground nutmeg, 1/2 teaspoon ground ginger and 1/8 teaspoon ground cloves or allspice.Permalink: https://www.texanerin.com/keto-pumpkin-cheesecake/
Read more: texanerin.com