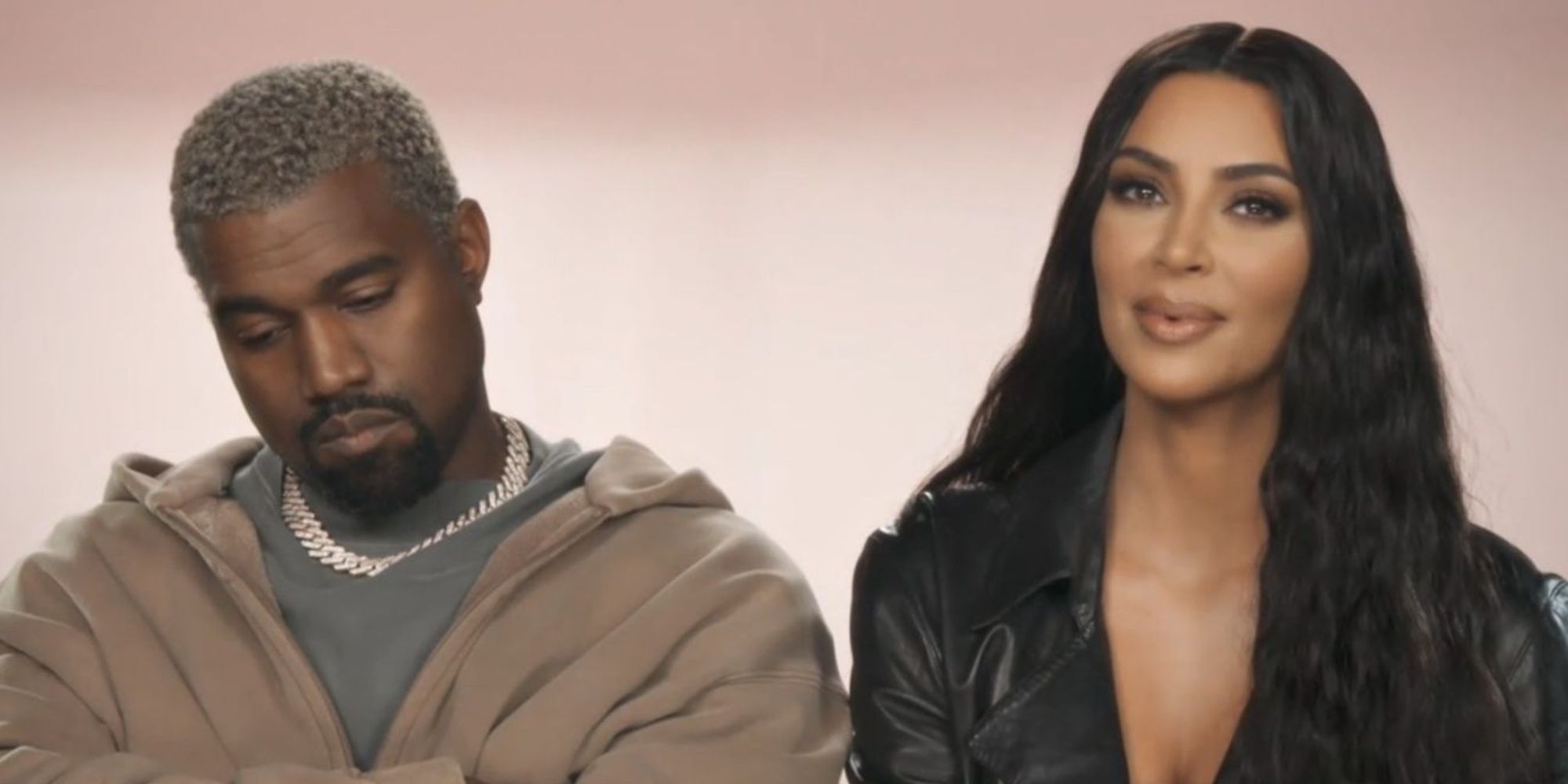 Amid the release of Kanye West's Donda, sources for Kim Kardashian are saying that the Keeping Up With the Kardashians star was well aware of his infidelity reveal in advance of the Donda album release. Kim was reportedly given a "heads up" that her ex-husband would admit to the cheating that took place during their marriage. The news comes after the divorcing couple fueled reconciliation rumors through Kim's appearance in a wedding dress at the third Donda listening party. Despite their divorce proceedings still being in effect, Kim and Kanye are showing signs of being on better terms.
The cheating revelation took place on the song "Hurricane", where Kanye confessed to cheating on Kim after having two kids together. "Here I go actin' too rich / Here I go with a new chick / And I know what the truth is / Still playin' after two kids / It's a lot to digest when your life always movin'," Kanye rapped in the verse. While some initially assumed that Kanye was referring to his short-lived fling with model Irina Shayk, it was later revealed that Kanye was actually revealing that he stepped out during his marriage to Kim. Since the reveal was made public, Kim hasn't denied the reports, which possibly hints that it is true.
Related: KUWTK: Scott Disick & Amelia Hamlin On A Break After Kourtney Drama
Kim wasn't blindsided by Kanye's reveal after it was released, but her family was. The SKIMS founder was reportedly informed that Kanye would be owning up to his mistakes during their marriage. "She wouldn't be promoting something unless she knew all the lyrics," a source told Us Weekly. "She wasn't blindsided, but it is what it is. She's known her whole marriage/life with Kanye that he's an open book and there's nothing she could ever do to stop him from saying whatever he wants. But she had a heads-up." On the other hand, the Kardashian-Jenner family had no idea Kanye would reveal so much about their private marital woes.
Insiders say the Kardashian-Jenner family was "surprised to hear some of the lyrics" on the album. "He clearly was divulging private family matters between him and Kim and alluding to cheating," they added. It's said that Kanye is working to get back together with Kim and reunite their family. It's possible that he might be trying to have a clean slate with his ex-wife. Insiders say Kanye is being very present with Kim and their children, unlike how distant he happened to be last year. As such, his recent actions have reportedly made it "difficult" for Kim to move forward with the divorce.
Nonetheless, the KKW Beauty founder has yet to withdraw her divorce petition. If Kanye is trying to win Kim back, it looks like it might actually be working. The Keeping Up With the Kardashians star has been quiet about these reconciliation rumors. Kim has continuously supported Kanye privately and publicly, so it's possible for Kim and Kanye to make it work after all. Maybe all the time they spent apart was enough for Kanye that no other woman could ever complement his life the way Kim does.
Next: KUWTK: Kanye West Following Kim's Footsteps With New Lifestyle Brand
Source: Us Weekly
Read more: screenrant.com