Bring a taste of summer to your kitchen with these Lemon Sugar Snaps! Easy sugar cookies are filled with zesty lemon flavor and rolled in sugar for a sparkly finish. The perfect combo of sweet and tangy!
Do you crave lemon desserts in the summer?
I know I do. The refreshing zing of lemon, whether it's in a cold glass of lemonade or a sugar cookie, always perks me up on a hot sunny day.
These Lemon Sugar Snaps are something special. While I definitely think of them as a warm weather cookie, they're too good not to enjoy all year long. So whether your days are full of sunshine and swimming pools, or covered with snow, go ahead and whip up a batch of lemon sugar cookies. Your day just got a little brighter!
SAVE THIS EASY LEMON COOKIE RECIPE TO YOUR FAVORITE PINTEREST BOARD!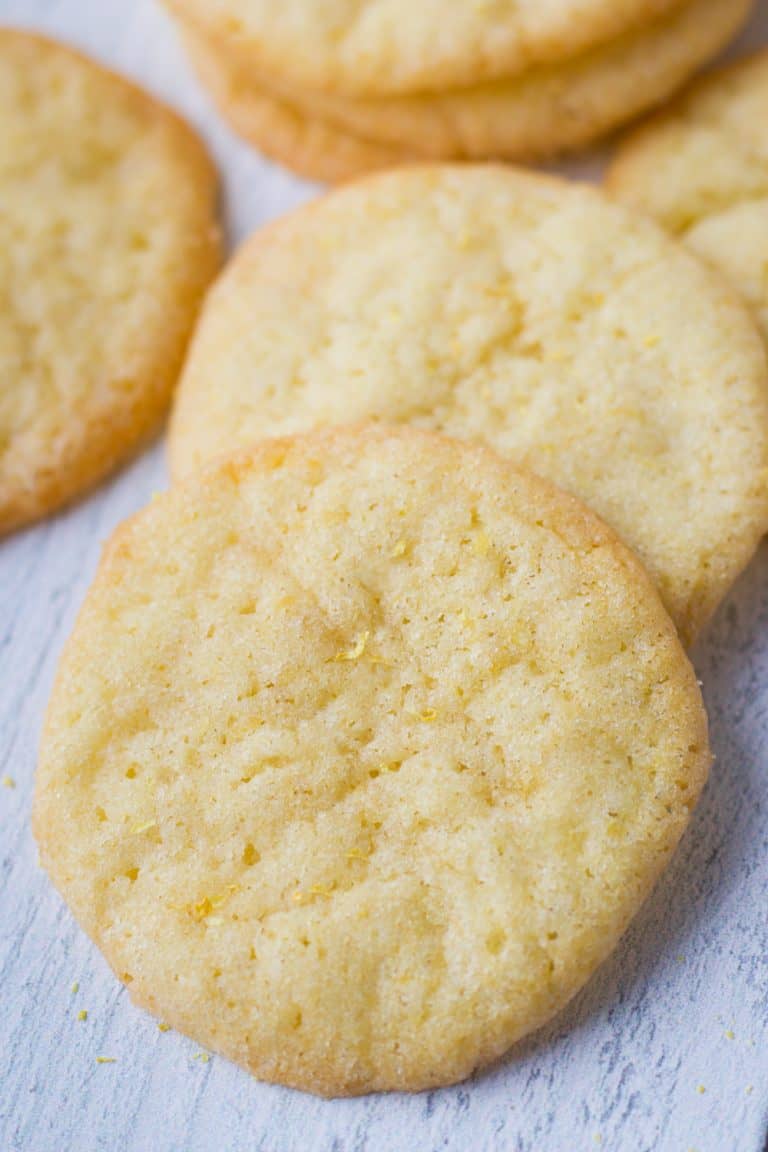 Lemon Sugar Snaps have the crackly sugar coated top of a ginger snap. Instead of spices, I flavored these cookies with lemon, lemon and more lemon. These look beautiful right out of the oven, no frosting required!
I based this recipe on Martha Stewart Lemon Snaps. Since making them the first time, these easy lemon cookies have earned a spot on my regular rotation of favorite cookie recipes. They're ideal for summertime picnics and lunch boxes.
If you like tea, you'll love pairing Lemon Sugar Snaps with a cup of earl grey for an afternoon pick-me-up.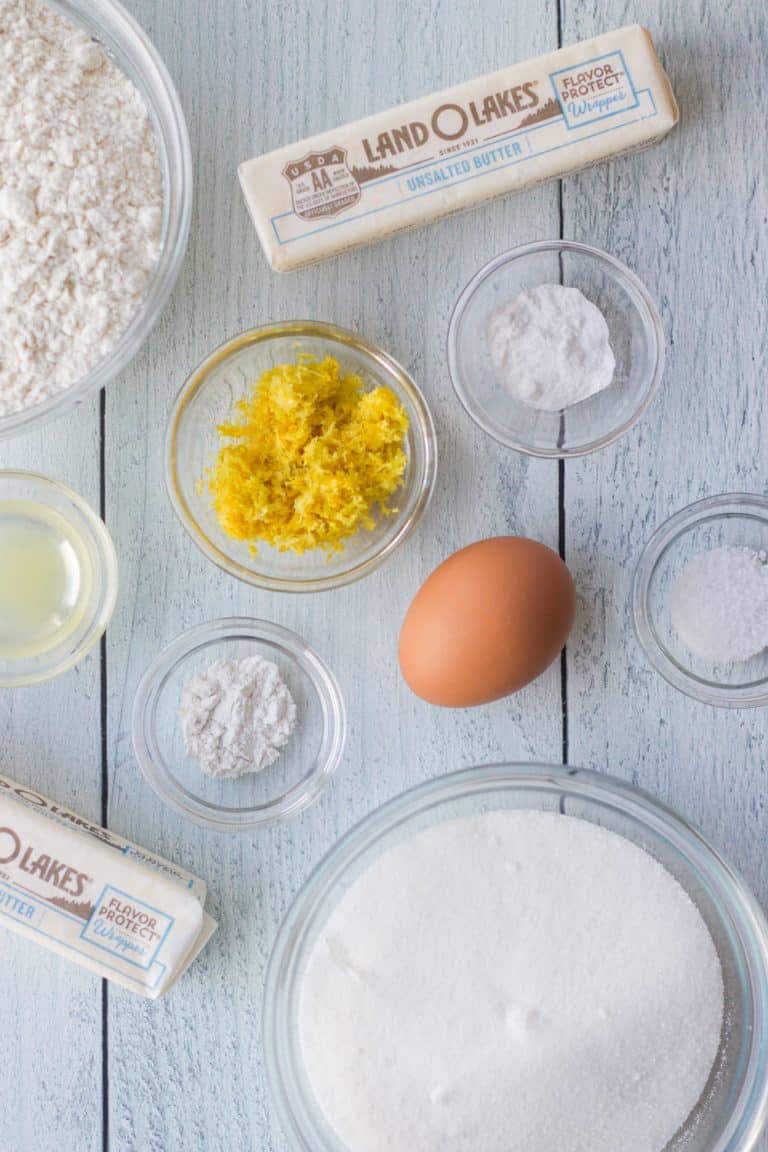 What do I need?
Here's what you need to make these easy lemon cookies:
flourbaking sodacream of tartarsaltunsalted buttersugaregglemons
This recipe uses both the zest AND the juice of the lemon. Zest the lemons before juicing them. It softens them up so you'll get more juice! TIP: roll the lemon on the counter under your hand to soften it up. It will make it easier to juice as well.
How to make lemon sugar snaps
Start by mixing the lemon sugar cookie dough. Refrigerate it for at least 2 hours. Once its chilled, you'll roll it into small balls. Then roll each ball in granulated sugar until well coated.I tried rolling them in powdered sugar as well to see which would be best – definitely stick with the granulated sugar.
Bake the lemon snaps until the edges are golden.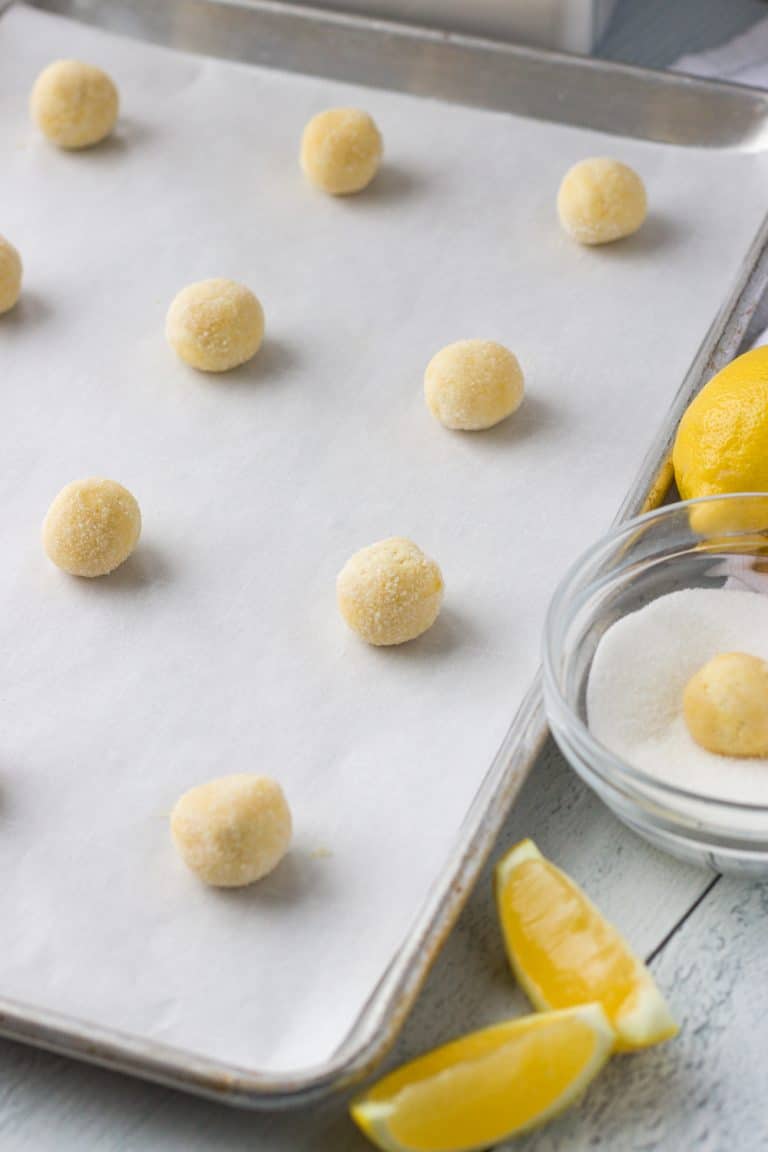 How to store cookies
Store baked sugar cookies in an airtight container at room temperature. They stay fresh and delicious for up to 5 days, but in my house cookies never seem to stick around that long!
You can also make the cookie dough ahead of time and store it for later. Make sure to wrap it in plastic wrap so it doesn't dry out. Keep raw dough in the fridge for up to 3 days or in the freezer for up to 3 months. When you're ready for homemade lemon cookies, just thaw dough and proceed with the recipe as directed.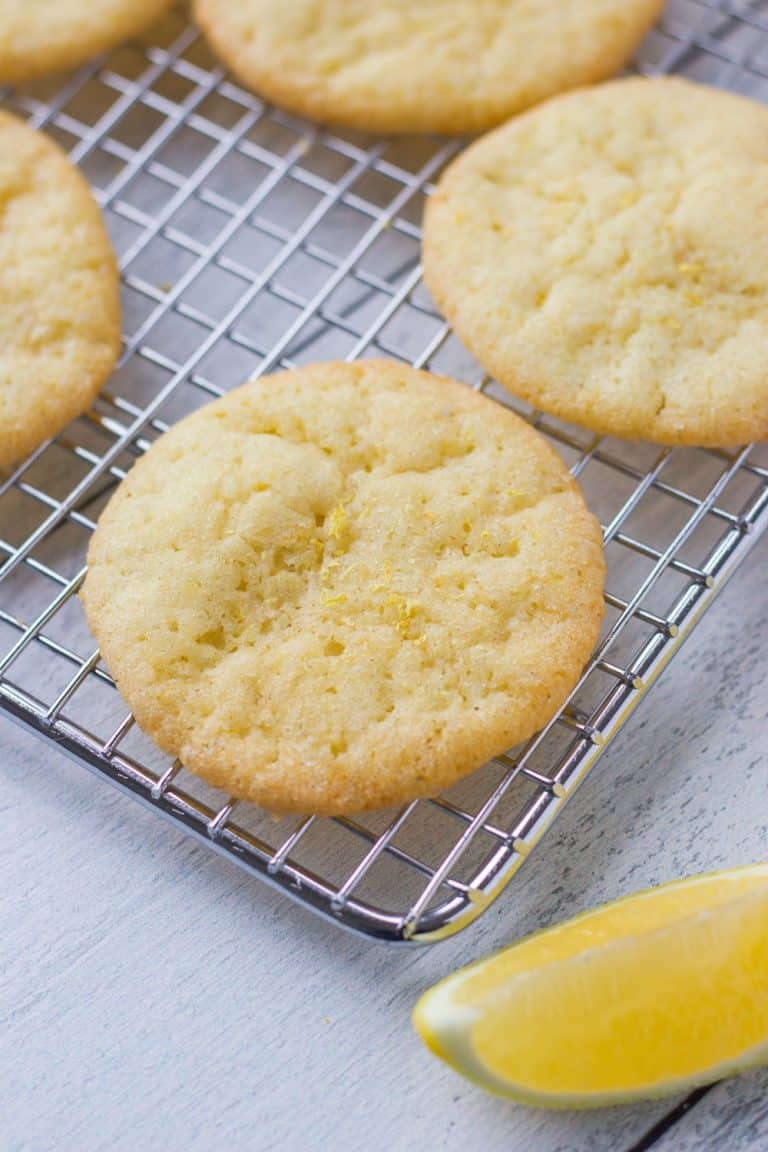 Cookie Recipes
Looking for more great lemon cookie ideas? Try my recipe for Ricotta Cookies with Lemon Glaze or these Lemon Coconut Sugar Cookies. The coconut gives them a fantastic tropical touch.
Not into lemon today? These Root Beer Float Cookies pay homage to a soda fountain favorite with delicious results. After you try a couple of less traditional cookie flavors (like Wasabi Chocolate Crinkle Cookies), revisit the greatest hits with a batch of Peanut Butter Cookies or Chocolate Chip Cookies.
Lemon Recipes
This little yellow citrus fruit has so many uses in cooking and baking. From adding zesty flavor, to tartness and moisture, it's a staple ingredient in dozens of my recipes.
Give them all of my lemon desserts try and see which ones are your favorite!
Lemon Marshmallow Poke CakeLemon Ricotta Pound CakeBlueberry Lemon Bread RecipeEasy Lemon BarsLemon CrepesLemon Meringue CheesecakesNo-Bake Lemon Cheesecake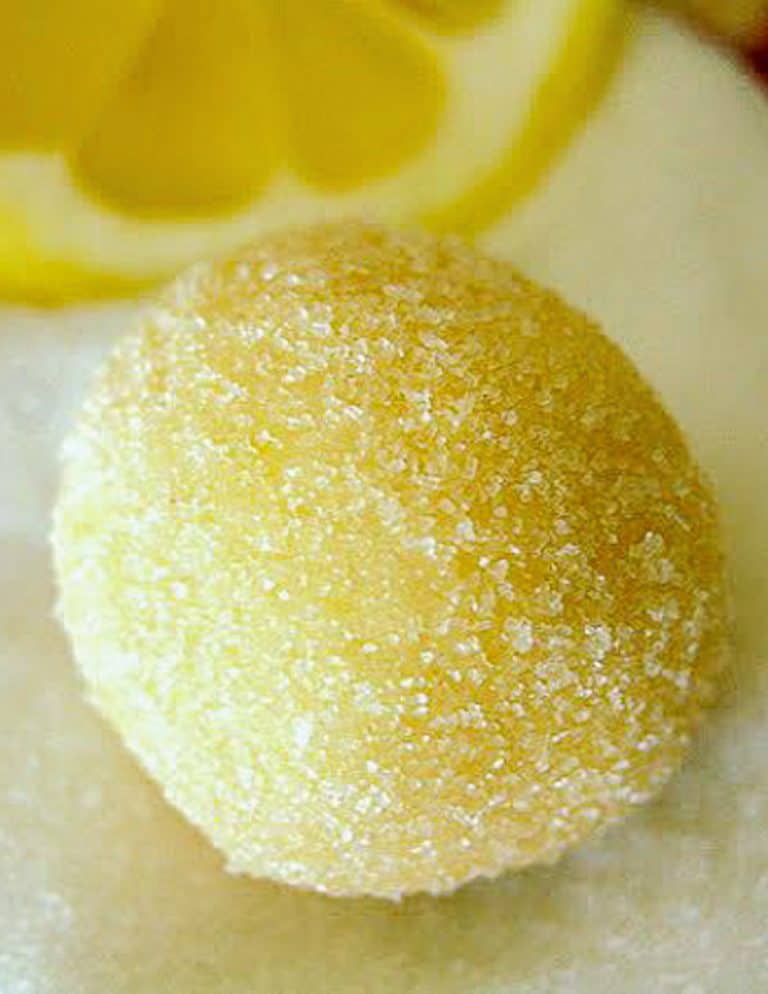 It may not seem like it but I do eat food that isn't dessert too! You'll love these lemon-infused savory entrees at meal time.
Lemon Herb Roasted ChickenLemon Garlic Shrimp PastaSteamed Lemon Herb TilapiaBaked Basil Lemon Trout
I found this recipe in the Martha Stewart's Baking Handbook, p.93; author, Martha Stewart; publisher Clarkson Potter/Publishers, a division of Random House; ISBN 0-307-23672-2.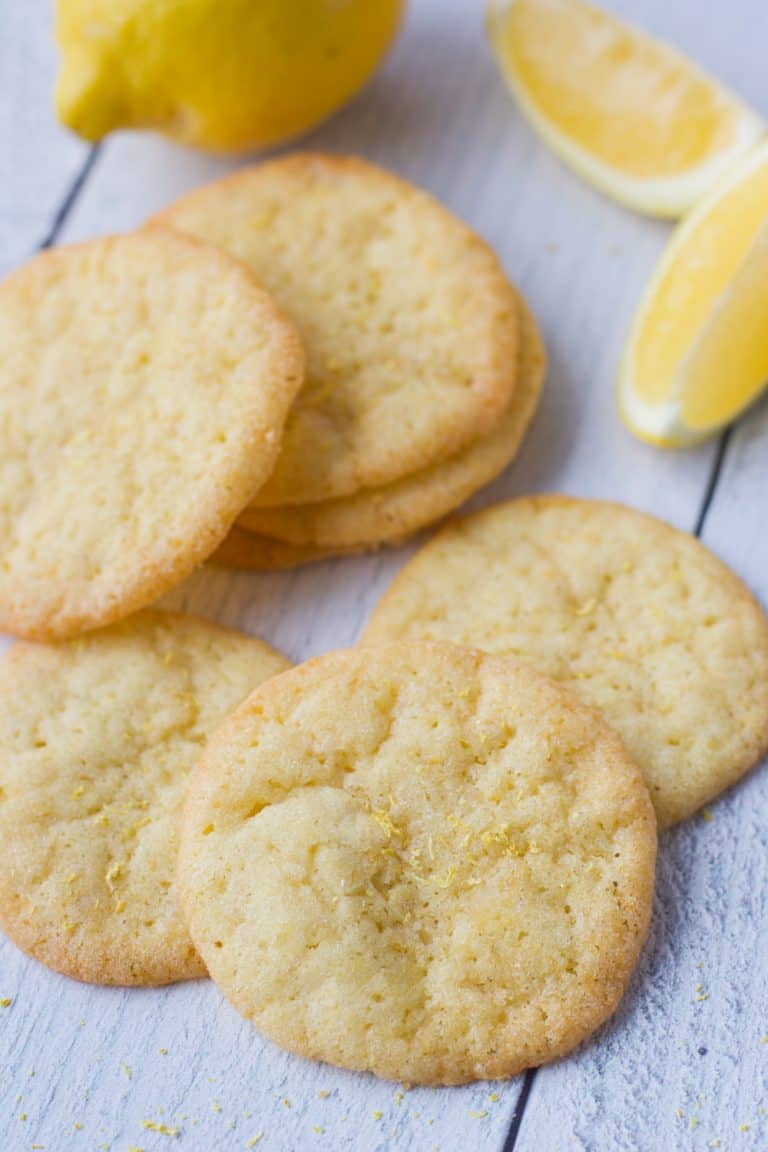 Sunny and sweet, Lemon Sugar Snaps put a little pep in everyone's step!
Lemon Sugar Snaps
Bring a taste of summer to your kitchen with these Lemon Sugar Snaps! Easy sugar cookies are filled with zesty lemon flavor and rolled in sugar for a sparkly finish. The perfect combo of sweet and tangy!
Course DessertCuisine AmericanKeyword cookies, Lemon Sugar Cookies, Lemon Sugar Snaps, Sugar Cookies
Prep Time 15 minutesCook Time 15 minutesRefrigeration 2 hoursTotal Time 2 hours 30 minutes
Servings 50 cookies
Calories 65kcal
Author Lynne Feifer
Equipment2 medium mixing bowls1 Mixer1 small mixing bowl1 sheet plastic wrapparchment paper2 baking sheets
Ingredients1 ¾ cups all-purpose flour1 teaspoon baking soda1 teaspoon cream of tartar½ teaspoon salt1 cup unsalted butter room temperature1 cup granulated sugar plus more for rolling1 large egg2 tablespoons Freshly grated lemon zest I used three lemons1 tablespoon freshly squeezed lemon juice
InstructionsWhisk together flour, baking soda, cream of tartar, and salt in a medium bowl.In the bowl of an electric mixer, beat the butter and sugar on medium speed until light and fluffy, about 2 minutes.Add the egg and lemon zest and juice and beat until combined.Add the flour mixture; beat until just combined, scraping down the sides of the bowl as needed. Transfer dough to a bowl, cover with plastic wrap, and refrigerate for at least 2 hours or overnight.When ready to bake, preheat oven to 350ºF.Prepare two large baking sheets by lining them with parchment paper.Place sugar in a shallow bowl and shape leveled tablespoons of dough into 1-inch balls. Roll balls in sugar to coat completely.Place about 3 inches apart on the prepared baking sheets.Put cookie sheets into oven and rotate about halfway through. Bake for 12 – 15 minutes or until the edges just begin to golden.Transfer cookies to a wire rack to cool completely.Cookies can be kept in an airtight container at room temperature for up to 5 days.
NutritionServing: 1cookie | Calories: 65kcal | Carbohydrates: 7g | Protein: 1g | Fat: 4g | Saturated Fat: 2g | Polyunsaturated Fat: 1g | Monounsaturated Fat: 1g | Trans Fat: 1g | Cholesterol: 13mg | Sodium: 47mg | Potassium: 17mg | Fiber: 1g | Sugar: 4g | Vitamin A: 118IU | Vitamin C: 1mg | Calcium: 2mg | Iron: 1mg
This post was originally published 4/7/11. It has been updated in format and with pictures on 1/28/22.
The post Lemon Sugar Snaps appeared first on 365 Days of Baking.
Read more: 365daysofbakingandmore.com