The best Peanut Butter Cookies are made from scratch, with love. Sweet and chewy with a little crispiness on the edges, these cookies have all the old-fashioned peanut butter flavor you crave. They're simply irresistible–especially paired with an ice cold glass of milk!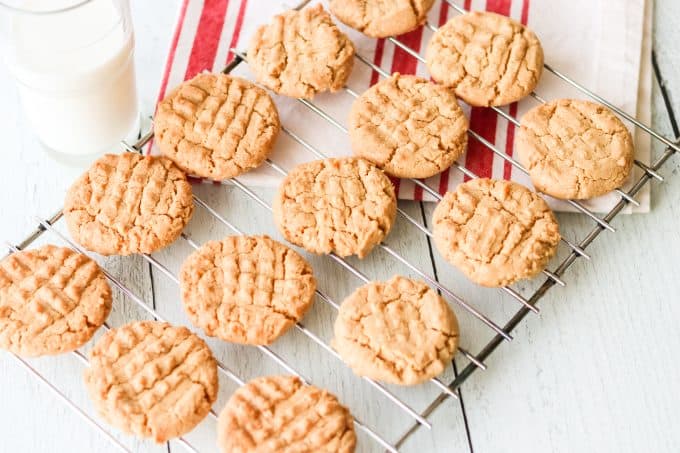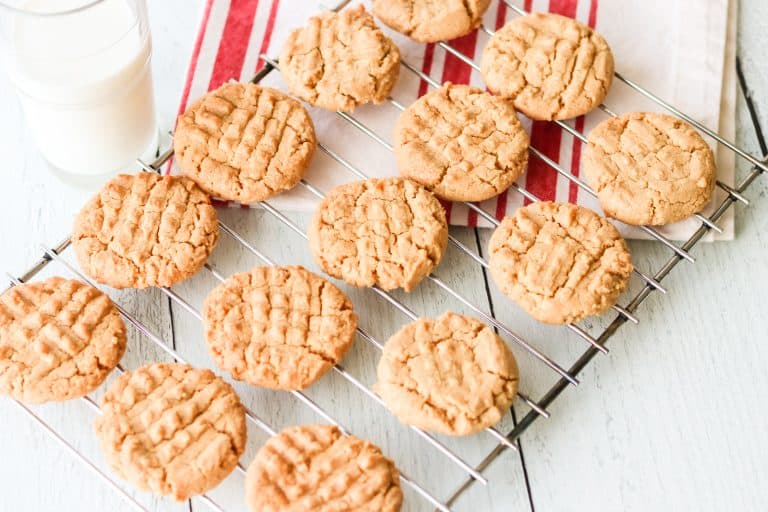 Milk and cookies. Does it get any better?
The classic cookies & milk combo is my idea of a perfect late night comfort food treat. I could go for just about any variety of cookie, from Soft Chocolate Chip to Oatmeal Butterscotch.
My husband, on the other hand, wants only one thing when his sweet tooth hits: Peanut Butter.
SAVE THIS EASY PB COOKIE RECIPE TO YOUR FAVORITE PINTEREST BOARD!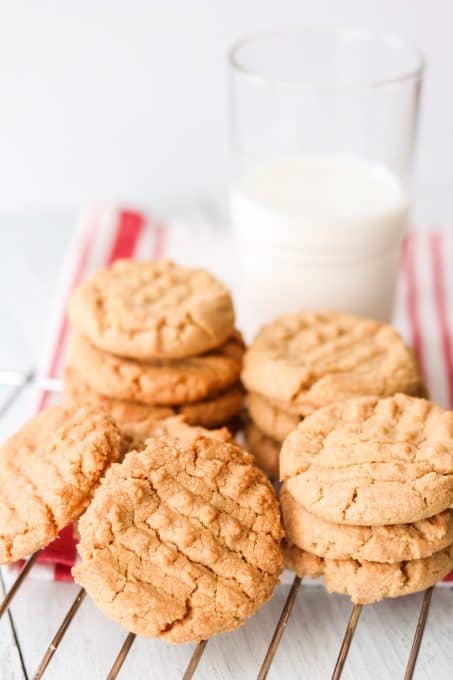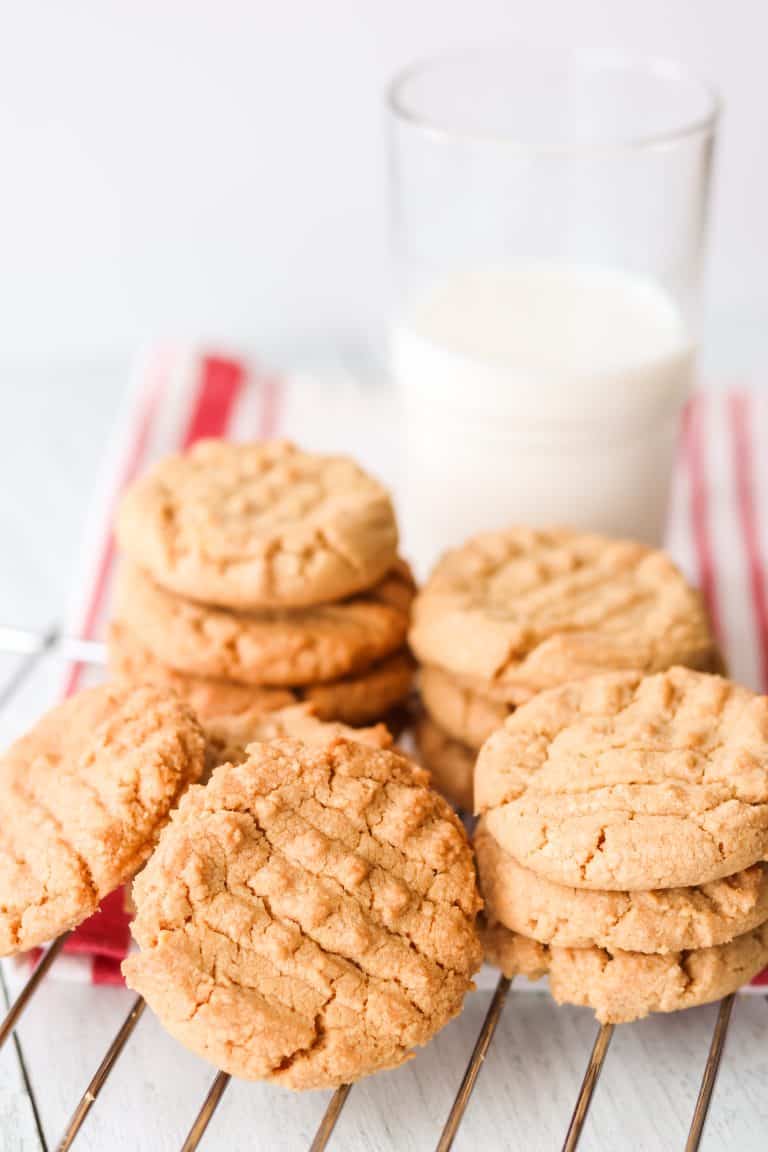 Once you taste these cookies, you just might agree with him! These homemade peanut butter cookies are nothing fancy. And that's what makes them so great. The peanut butter flavor is front and center here with no chocolate or oatmeal to distract from the rich, sweet peanut butter-y goodness.
I love the familiar criss-cross pattern in the top too! They look just like the ones grandma used to make.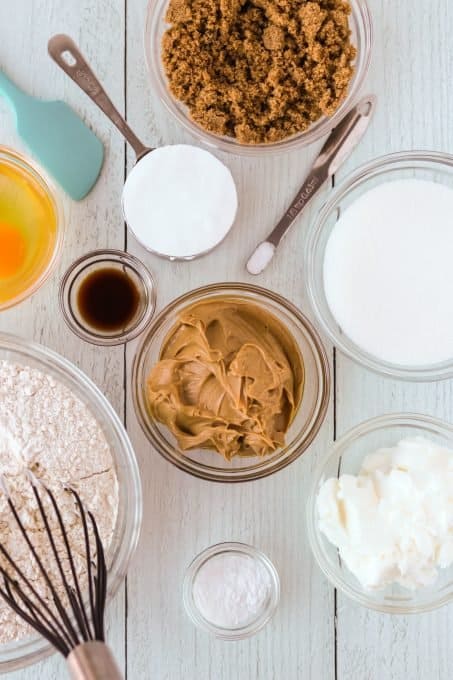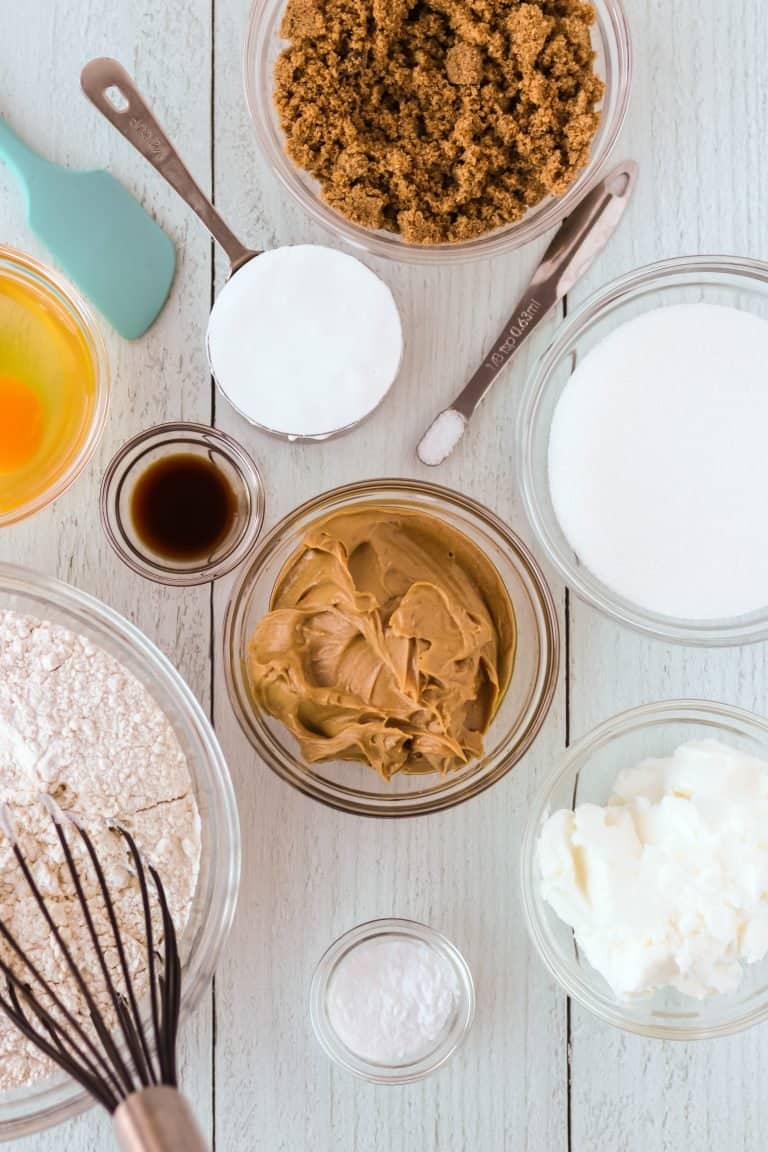 What do I need?
You will need a few simple ingredients for this cookie recipe:
shortening vanillagranulated sugarbrown sugareggspeanut butterfloursaltbaking soda
What kind of peanut butter is best for cookies?
I recommend using creamy, shelf stable peanut butter in this recipe.Natural style peanut butters have no stabilizers to keep the oil from separating. This often results in greasy, crumbly cookies.
For most peanut butter dessert recipes, including this one, go for the inexpensive peanut butter like Jif or Skippy (the kind you likely ate as a kid!)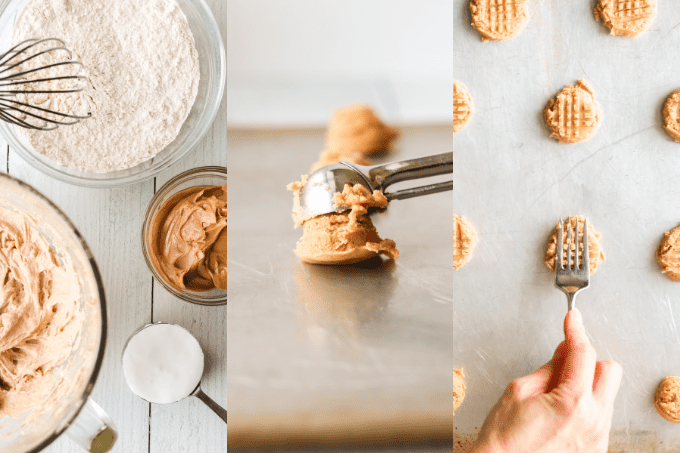 How do you make peanut butter cookies?
Making peanut butter cookies from scratch is super easy!
STEP 1. Cream shortening and peanut butter with the sugars.
STEP 2. Mix in vanilla and eggs.
STEP 3. Add the dry ingredients.
STEP 4. Drop dough onto the cookie sheet. Use a fork to press a criss-cross pattern into each one.
STEP 5. Bake, cool and EAT!
Tips and Tricks
Line your cookie sheet with parchment paper to make clean up easy.You can use your hands to roll the cookie dough into balls. This creates a more round cookie that's easy to press with the tines of a fork. The cookies will still look a little soft when you take them out of the oven. Remember they'll continue to firm up as they cool. When storing, put them into a sealed, airtight container. To keep them soft and chewy, place a piece of bread into container with them. The cookies will absorb the moisture from the bread keeping them soft and chewy. I do this with my brown sugars, too!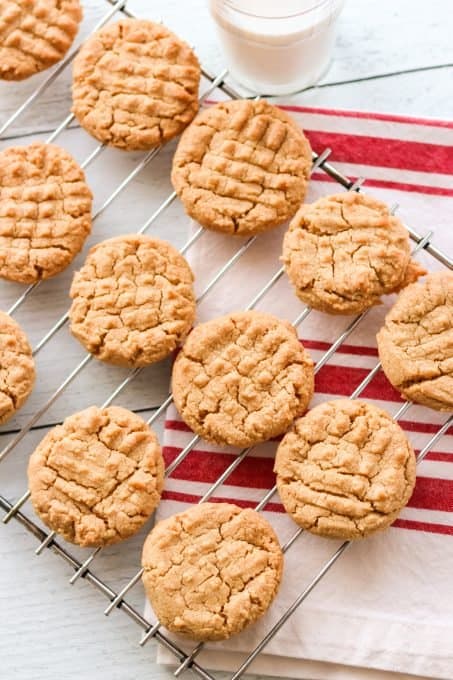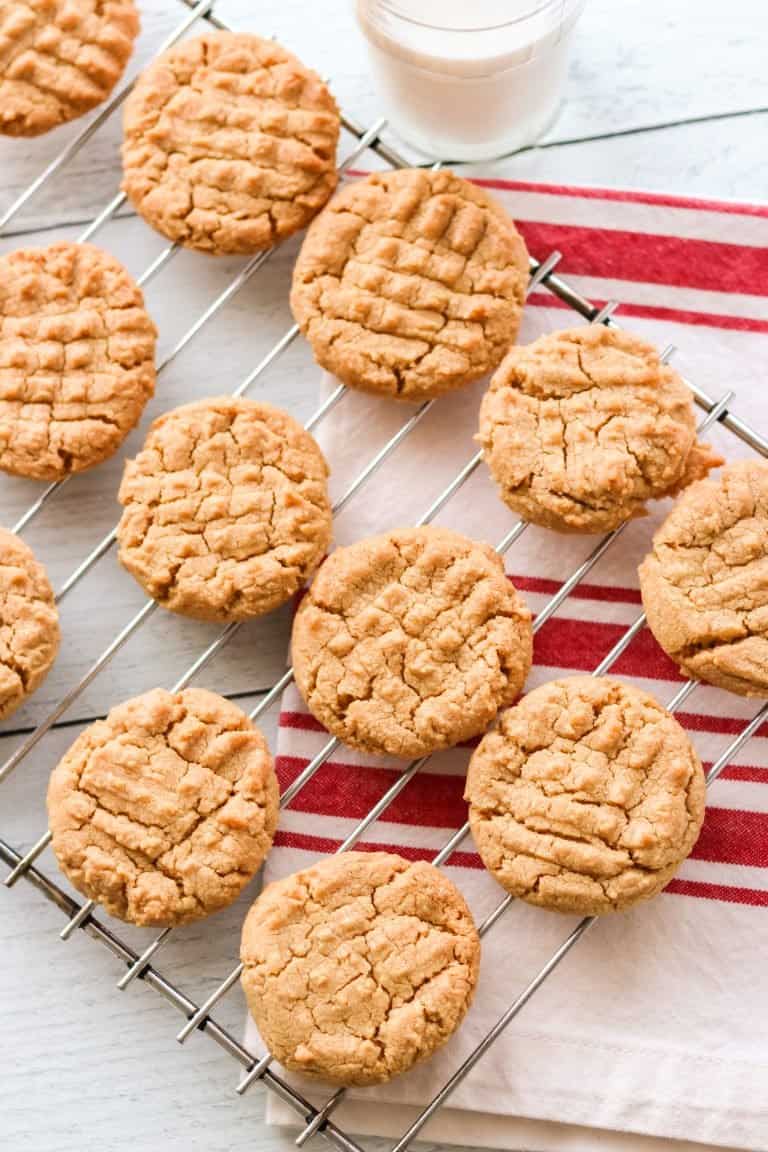 Cookie Recipes
As easy as this cookie recipe is, did you know I have another version that's even easier?! Try these 3 Ingredient Peanut Butter Cookies next time you need a lightning-fast treat. They're ready in just 13 minutes! I even have a sugar free version so everyone can indulge in delicious cookies!
While my husband likes the classic peanut butter criss-cross cookies best, I like mine with chocolate and oats when I have my say. I can't get enough of these Double Peanut Butter Oatmeal Chocolate Chip Cookies with a glass of milk for dessert.
Craving something extra chocolatey? You can't go wrong with these Chocolate M&M Cookies. It's candy and cookies in one!
If peanut butter and chocolate aren't your thing, you might like these Lemon Coconut Sugar Cookies. I love the unexpected tropical flavors baked into the easy frosted cookies.These Lemon Cake Mix Cookies are an easy and delicious recipe, too!
Peanut Butter Recipes
From desserts to sandwiches, I have no shortage of recipes to satisfy any peanut butter lover!
This Peanut Butter Cucumber Sandwich might sound weird, but don't knock it until you try it. The combo of sweet peanut butter and refreshing cucumbers is just wild enough to work. If you don't like it, you can always make Fluffernutter Sandwich instead.
Still need something to satisfy that sweet tooth? Check out these other peanut butter desserts my blog readers have loved over the years.
Reese";s Peanut Butter Rice Krispies TreatsChocolate Peanut Butter Dream Bars Peanut Butter Chocolate Lava Cake RecipePeanut Butter CrinklesPeanut Butter and Jelly French Toast CasseroleDouble Peanut Butter Oatmeal Chocolate Chip CookiesNo-Bake Peanut Butter PieNo Bake Peanut Butter S";Mores CookiesNo Bake Chocolate Peanut Butter Cornflake Cookies
~ FOLLOW ME ~~ FACEBOOK ~ PINTEREST ~ ~ INSTAGRAM ~ TWITTER ~
SIGN UP FOR THE WEEKLY 365 DAYS OF BAKING & MORE NEWSLETTER BELOW!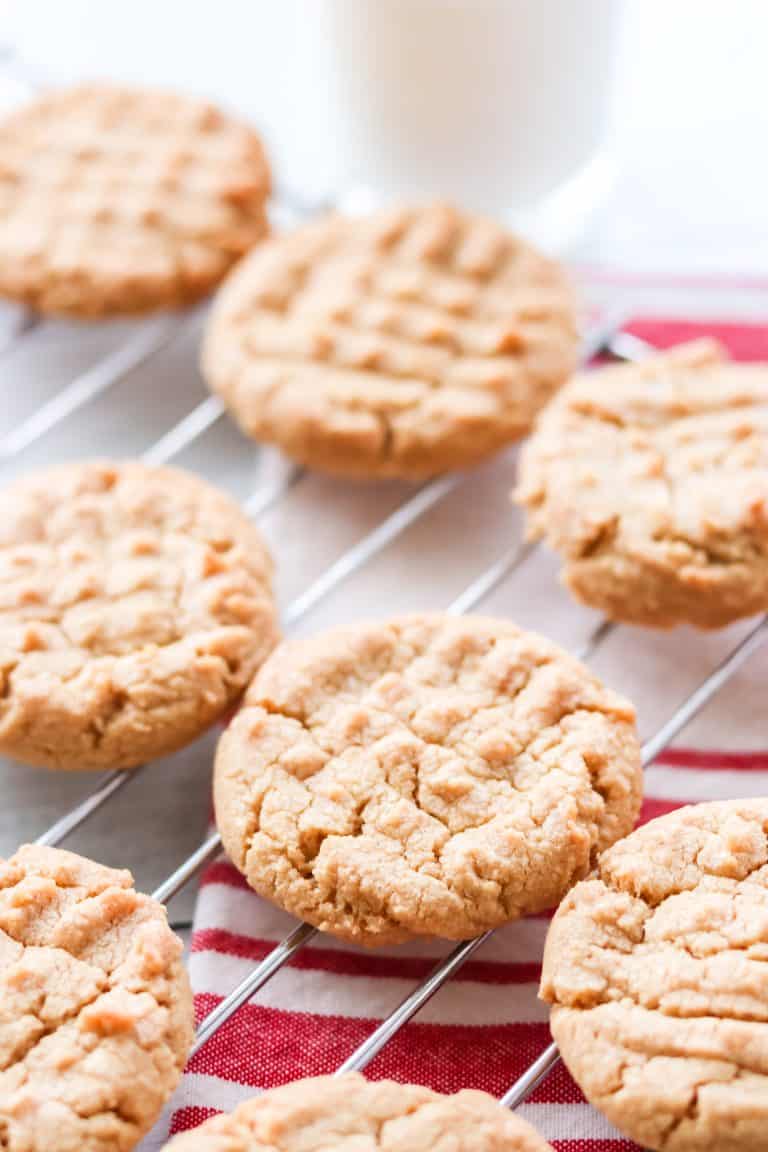 This recipe is from The Fannie Farmer Cookbook Thirteenth Edition, p. 617; author, Marion Cunningham; publisher, Alfred A. Knopf, division of Random House; ISBN 0-394-56788-9.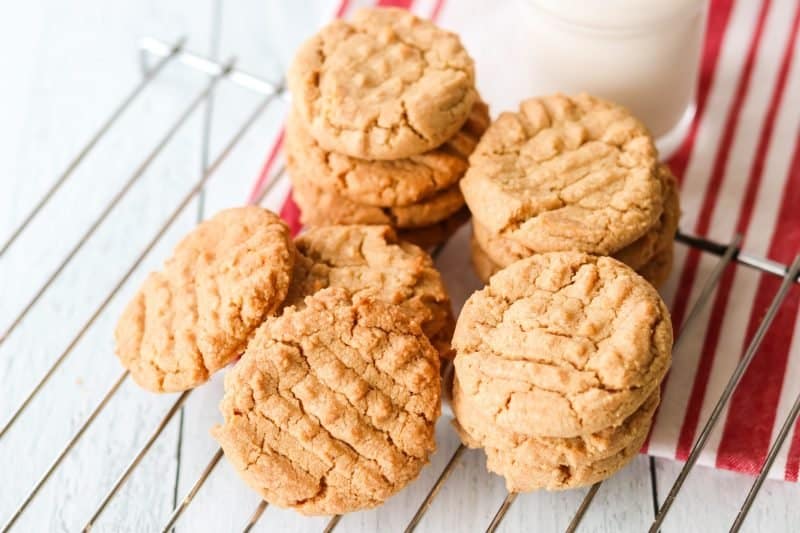 Peanut Butter Cookies
The best Peanut Butter Cookies are made from scratch, with love. Sweet and chewy with a little crispiness on the edges, these cookies have all the old-fashioned peanut butter flavor you crave. They're simply irresistible–especially paired with an ice cold glass of milk!
Course DessertCuisine AmericanKeyword cookies, Peanut Butter Cookies
Prep Time 15 minutesCook Time 10 minutesTotal Time 25 minutes
Servings 48 cookies
Calories 134kcal
Author Lynne Feifer
Equipment1 Mixer1 Fork1 medium mixing bowl1 small cookie scoopparchment paper2 cookie sheets
Ingredients1 cup shortening1 teaspoon vanilla1 cup granulated sugar1 cup brown sugar2 eggs beaten1 cup peanut butter3 cups flour⅛ teaspoon salt2 teaspoons baking soda
InstructionsPreheat oven to 350°F, and prepare two cookie sheets by lining them with parchment of a silicone liner.In a mixing bowl, cream the shortening, vanilla, and both sugars until thoroughly mixed. Add the eggs. Scrape down the sides and bottom of the bowl and add the peanut butter. Whisk the flour, salt, and baking soda together in a medium bowl. Add to the peanut butter mixture, and mix completely.Use a cookie scoop and place the dough onto cookie sheets. Make a crisscross pattern in the top of each cookie using a fork.Bake about 8-10 minutes, or until firm.
NutritionServing: 1cookie | Calories: 134kcal | Carbohydrates: 16g | Protein: 2g | Fat: 7g | Saturated Fat: 2g | Polyunsaturated Fat: 2g | Monounsaturated Fat: 3g | Trans Fat: 1g | Cholesterol: 7mg | Sodium: 81mg | Potassium: 52mg | Fiber: 1g | Sugar: 9g | Vitamin A: 10IU | Calcium: 8mg | Iron: 1mg
Back in the day when I first started the blog and was doing the original 365 days of baking, I was using a rolling pin rating and this recipe was given 4 rolling pins.This post was originally published 2/19/11. It has been updated in format and with photos on 3/7/22.
The post Peanut Butter Cookies appeared first on 365 Days of Baking.
Read more: 365daysofbakingandmore.com